So, yah, ummm, it would appear that I kind of fell off the face of the (scrapbooking related) earth for the past four months, now wouldn't it? As you may recall from my
last post
in April (yes, April - I know!), I was headed in for surgery and going to take some time afterwards to recoup and get my strength back.
The recouping part has happened as best as its going to, but my strength level - and moreover my health in general - has been anything but conducive to crafting this year, and as a result, I haven't been able to create anything new now since early January. The fact that my craft room is currently doing double duty as a storage room due to some very unpleasant basement flooding that we experienced in late June isn't helping matters either (I couldn't get to my scrapbook supplies at the moment, if I wanted to - which believe me, I do want to with all my heart).
This blog has always been a way for me to document my scrapbooking and card making work. I may occasionally talk about other things, but it's not my primary blog (that would be Chronically Vintage), and so when I'm not able to create new work, things do tend to fall silent here. I don't know when I'll craft again new next, but I certainly hope that the answer is a resounding "soon", because I miss it something fierce.
It's rather interesting catch-22 that I'm often unable to craft due to my health problems, and yet crafting itself, I find, is tremendously therapeutic and beneficial to said health (not the least because I find it so incredibly relaxing).
To the best of my memory, the last paper crafting project that I made back at the start of the year was the following delightfully feminine, layered, embellie filled birthday card (for a dear Aunt), and as I haven't posted it here yet, it seemed like high time (more than half way through August!) that I finally did.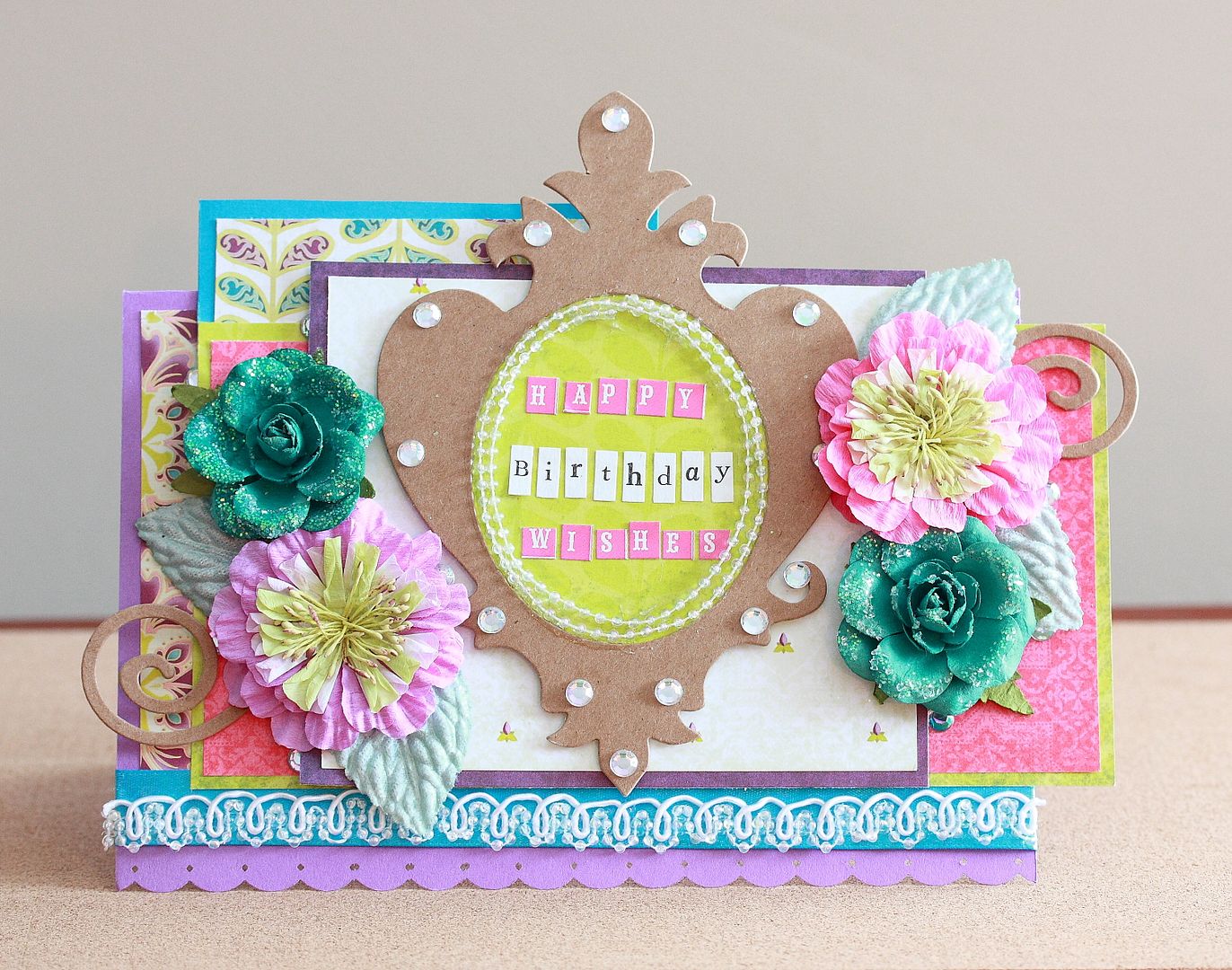 Just seeing it makes me yearn for my papers and inks, Stickles, trims, punches, Thickers and all the other delightful items that call my craft room home. Again, though I don't know when I'll get to reconnect with them once more, I am keeping my fingers firmly crossed that such will happen soon - I have so many months of creative ideas swirling through my head that I cannot wait to see come to life!
Whether new projects emerge in the near future or note, I will continue to post "this is where life is at now" kinds of updates here periodically and really want to wish each and every one of you an incredible, fun and happiness filled last month of summer!